Regular price
Sale price
$4.00 USD
Unit price
per
Sale
Sold out

This is for a single 9" Diameter Acrylic Disc. This is for those who had bought the previous package and need an extra 9" disc to play the new scenarios for Conquest: Last Argument of Kings

This does not include bag or tack dots.
Contact us for bulk order and shipping rates! We can send custom quotes as Shopify \ Etsy doesn't always calculate shipping well for larger orders.
Check out our Etsy store for (usually) better international shipping prices too
All our objective zone markers are optical grade clarity and laser cut to precise diameters to give the most accurate representation of battlefield objectives possible and are shipped with scratch protection on both sides of each objective marker that can be peeled off before use.
Our blog post and our video talks more about our objective zone marker series (using our Age of Sigmar objective markers as demonstrations) that allow you to see more about what makes ours stand out.
Our objective markers don't have any printing, logo's, website address, or anything else on these markers that breaks immersion - but we can also mark the outside edge and center with whatever color you'd like to provide a clearer marking of the boundary without being too distracting or gaudy.
We also provide reusable low-tack glue dots that can be attached to one side of the objective markers to keep them from sliding on the table, addressing one of the main concerns people have with acrylic objective markers.
All orders come with a carrying bag to prevent scratches and scuffs on the objective markers in-between your gaming victories, and each objective marker has a scratch resistant film on both sides that can be removed once received.
Optical grade acrylic provides full transparency while playing and doesn't cover up the beautiful battle mats that are being used or break immersion, and won't yellow or change color over time. 
1mm thickness allows miniatures to easily be placed on it and move over it without difficulty and ensuring it doesn't interfere with the game while clearly designating the objective range. It also ensures they are durable enough not to bend, warp, or crease.
The center is marked with a 3mm hole to exactly define the center without any guesswork.
Materials

Full set of 8 12" objective markers are made from a sturdy and fully transparent optical-grade acrylic that is 1mm thin. Material comes with scratch-resistant PE film on both sides to ensure that the markers arrive to you without any scratches or defects of any sort.


Objective markers are impact resistant and durable to withstand years of use on the battlefield.

Each order includes a bag for carrying the markers around to prevent scratches and scuffs during storage or taking them out to the local game night.
Shipping & Returns

We try to ship all items in stock within 5 business days or earlier.

If you are unsatisfied with the product, please contact us within 30 days of receipt to let us know.

Shipping costs to Canada or international customers do not include any import duties or fees. Customer is responsible for all import duties and fees for their final destination country.
Dimensions

Objective markers are precision cut to exactly 12" to give the most accurate representation possible on the battle field.

The exact center is marked with a 3mm hole to precisly identify the actual objective without getting in the way.
Care Instructions

Clear acrylic can be washed with soapy water or any other type of window washer fluid in case of stray marks or stains.
Share
View full details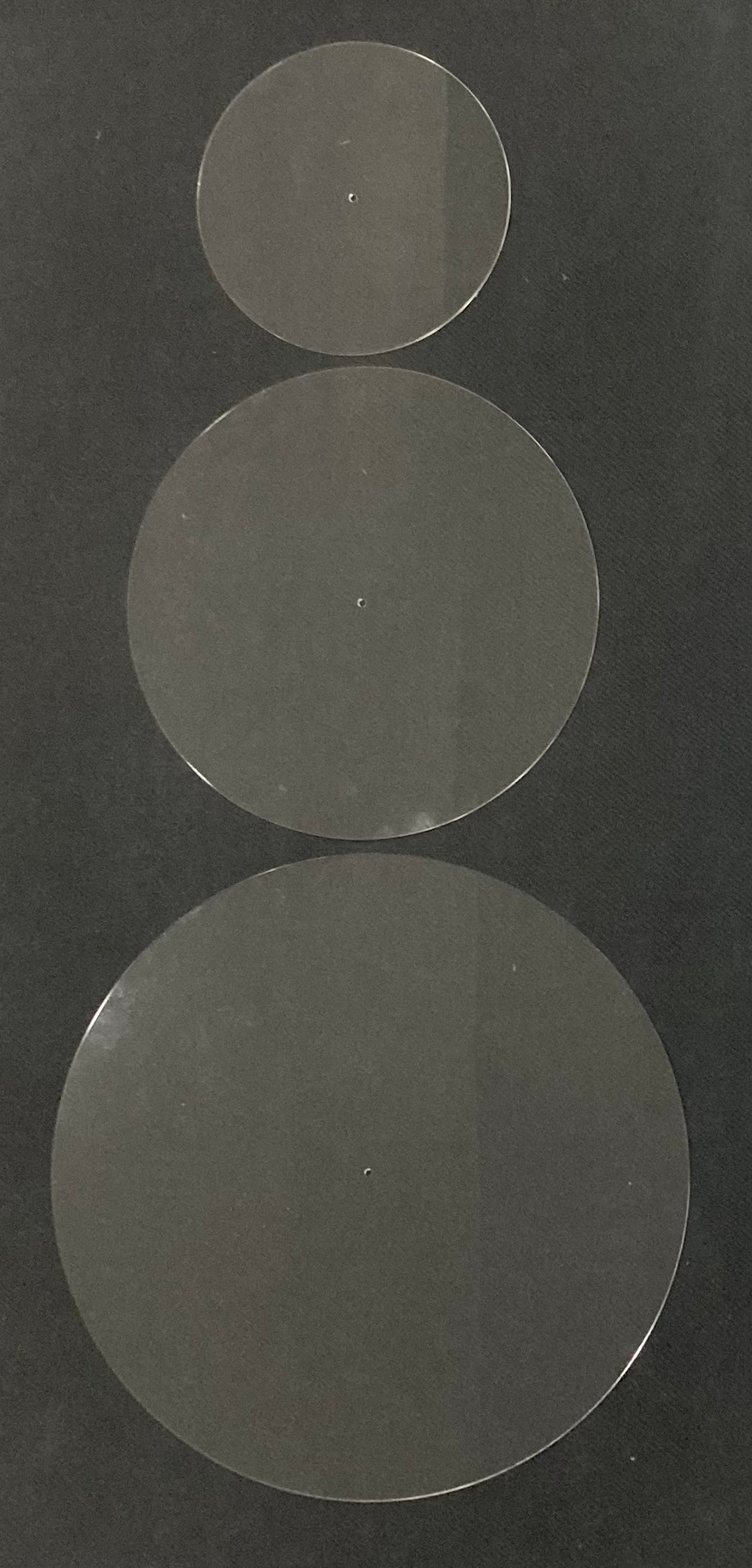 Free Shipping

Free shipping on all orders over 50$ within the contiguous US.
This means all Battle Mats ship free!

Have a Problem?

Contact us within 30 days of receipt of your item to request a refund or exchange. Check out our refund policy for more details.
Check Out Our Battle Mats